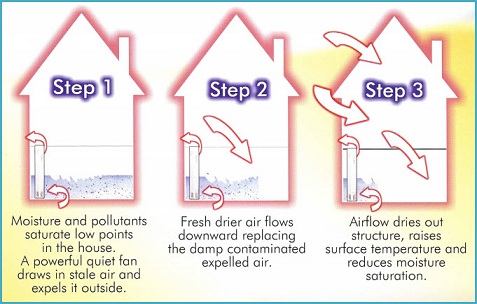 Humidex is a unique, patented system to help moisture removal. It creates a continuous air exchange within your home, preventing stale, moist air from stagnating, and improving your overall indoor air quality.
Humidex will control moisture and ventilation to:
Expel moisture, gases, toxins, and pollutants
Replenish the polluted, damp air with healthy, dry air
Ventilate the entire house, drying out the structure
A conventional dehumidifier doesn't exchange the air or ventilate the basement, and is costly to operate. Humidex provides a healthier, drier and more comfortable home at a fraction of the cost.
In fact, Humidex saves 90% on electric bills over conventional dehumidifers.
The quiet, yet powerful Humidex system draws in moist, contaminated indoor pollutants, and expels them safely from the home. This unhealthy air is then replaced with a flow of drier, fresher, healthier air drawn downward from the upper levels. Humidex inhibits the growth of molds and reduces moisture-related problems.
(PDF)