We conduct a comprehensive home evaluation for mold, moisture and odor in your home, including your attic, basement and crawl space. If we find any problems, we can provide a full remediation solution to improve your indoor air quality. We also offer in-home products (Humidex, air purifier) to maintain your indoor air, so you and your family can breathe easy for years to come.
Indoor Air Purification
Introducing the revolutionary CleanStation air purifier
Featuring Disinfecting Filtration System (DFS) technology
Initially developed for the US Department of Defense
This Class II medical device is the only residential system that safely removes all three classes of Air Contaminants:
Particles
Bio-aerosols and Microorganisms
Volatile Organic Compounds
Click to Download Brochure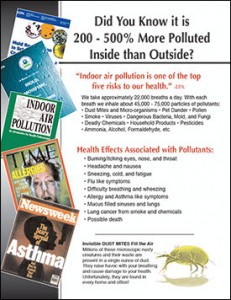 Air Duct Cleaning
Allergic reactions, difficulty breathing, infections and disease could all be linked to your home air system. Whether you're using air conditioning or heat, tiny impurities can settle in the air ducts of your air system. We improve your quality of life by removing from your home the impurities that can cause illness.
We use the most current air duct cleaning system for residential units, a portable, powerful self-contained system to brush and vacuum debris away. You'll get optimal coverage and effectiveness in removing impurities from your air ducts. Our technicians provide professional air duct cleaning and a complete guarantee to rid your home of pollutants quickly and efficiently. Keep your family healthy and safe—call us today.
Benefits of good indoor air quality
Healthier environment for you and your children
Improved quality of life for allergy and asthma sufferers
Cleaner environment with less dust, dirt and odors
84% of users report sleeping better
94% experience symptom relief from allergies
Peace of mind that you provide and enjoy a cleaner, safer environment
Call for free demonstration how we can improve your indoor air quality